Our Client
Learning a little about our client and their problems with their website
Who they are and why they needed our help:
Waupoos Family Farm is a family vacation camp experience for low-income families that need to get away from the pressures of daily life.  Their goal is to "Provide a safe and welcoming community environment where families can find rest, fellowship and hope".
Waupoos came to us wanting a fresh new look and feel to their website.  They knew what they generally wanted but did not know how to go about executing it.  We came up with a solution for the design and functionality of the site and had a great time working together on this project.

Outdated: The layout and design of their site was outdated and busy
Non-responsive: the site layout did not adjust depending on the screen size, poor accessibility on mobile devices

Our Clients must have list:
 An easy to use CMS (Content Management System) so that they can edit and add content as needed
 The ability for families and volunteers to apply online as well as collect donations
 A blog and events calendar to inform users of news, updates, events, cottage sessions and important information about the farm
 The ability to incorporate their social media feeds and a section to join their mailing lists
Responsive website to allow viewers to access their site no matter what device they use and see a cohesive design
 A photo gallery to show the fun experiences on the Farm
Our Solution
How we helped our client solve their problem!
Giving their users the ability to apply online by filling out the form or printing it to send in later was very important to our client.  They wanted to streamline and simplify the process for their users.  They also needed to have the ability to link to their donations account so visitors can make donations.  We made the donations button prominent and positioned it in the header.  By doing this the donations button is visible to their visitors and is accessible on every page so no matter what page they enter the site on they will see the option to donate.
Our client needed to be able to list the events going on at the Farm in one location so that they can direct their visitors to view. The event calendar we used allows them to add events; single, repeating, groups, they can categorize them, upload detailed information and much more.
We configured their blog to be a pageless design that paginates as the user scrolls down the page. Our client can post any news, update and important information about the farm they wish to share with their visitors.
Our client wanted an area to showcase the fun activities, the animals and families enjoying time on the farm. We gave them an area to categorize their images to create multiple galleries as they have many great shots to choose from.  This way the images can stay organized and the viewers can choose which types of photos they wish to look at.
It was very important for out client to have an area for people to sign up for their mailing lists.  They send out newsletters and flyers regularly to try to gain new supporters and to keep their regular members up to date on what is going on around the farm.

Our Redesign for their Website included:
Professional, Updated, Responsive Design: Users can access their site no matter what device they are using.
Functionality: users can easily apply online, make a donation, view photos, see events, news and much more all in one location.
User Friendly content management system that allows our client to update and edit their site easily.
 HTML5 and CSS3; the most current coding syntax, through a WordPress platform.
Our Deliverables
Our new Responsive design for Waupoos Family Farm displayed on different devices!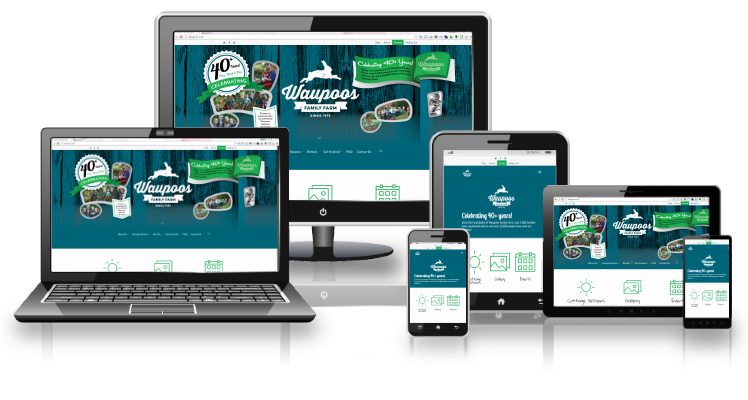 How our great design worked for our client!
We worked hard with our client to understand their needs to be able to give them the website they needed for their Foundation to be successful.
Our final product met all our clients needs and gave them the options they were looking for in their new website design.  We were grateful for the chance to work with Sarah from Waupoos Family Farms on this project and we are happy they loved the end result. Below you can see what Sarah had to say about the final result and what is was like working with AllCore on this project.

Many thanks to AllCore Communications Inc. for generously offering their services for the design of our site.

Waupoos Family Farm

Launch of Website
We've gotten lots of positive feedback so far! Thanks again for all the work you put into this! I'm really happy with the result 🙂

Sarah Marshall

Website Design
Our Recent Work
Check out some of the other projects we have completed for our amazing clients
Are you a company in the same situation and are interested in having your site redesigned?
Give us a Call 1-866-320-0011 or please fill out the form if you would like to get a quote for design work. We will send you a questionnaire to fill out so that we can provide you with an accurate quote for the work you wish to have done.
What we can help you achieve
Responsive Website Design | Fresh Perspective | SEO | User Friendly Site