Our Client
Learning a little about our client and their needs for their website
Who they are and why they needed our help:
System Resale Solutions' main goal is to be the most trusted resource of new, used and pre-owned IT hardware in Canada.  They want to do this by helping their customers spend less on their equipment and increase the return on their investment into their IT infrastructure.  SRS also buys used or surplus network, server, and computer equipment.
Their new website is to show their clients what brands they have access to and let people know they do buy equipment not just sell it.  It is also to inform their users that eventually they will be able to search their products online.  Since the company was recently bought and the new owner wanted to emphasize this is a fresh start – – through the website, we have showcased this with a New and Improved modern design.

Website Structure and Syntax outdated
The site needs a new Logo and Colour Scheme – – new owners request
No SEO and therefore not ranking well
 Duplicate content – – There are multiple domains using the exact same content

Our Clients must-have list:
A Responsive website to allow clients to view their site and see it properly on any device
 Fresh, Updated website design that is brought in the modern age
 The ability to eventually handle Product Listing Functionality
 Possibly get more clients by Implementing SEO
Our Solution
How we helped our client solve their problem!
The staff were very unhappy with their current site and never referred clients to it because of this.  It was too outdated and didn't showcase what they had to offer.  We created a fresh look with a modern logo and responsive layout.  The staff and clients are loving the new site!
We also wanted to make sure the site not only looked great but also performed great.  It has a quick response time and functions well; no matter what device you visit the site on.
Having a Responsive site is crucial today.  Your site needs to display and function properly no matter what device a user views it on.  We made sure to design System Resale's site responsively so there would be no issues when users visit their site, now or in the future.
We implemented SEO on each page of their site to optimize for specific search queries.  This way their site will hopefully come up to new clients researching for their products and services, potentially gaining them new business.
Ability to handle Product List – in the future
Right now our clients are not ready for this feature, however, it is a future request.  They wanted a site design that could handle expansion and not have to worry about starting from scratch again when the time comes.  We set their site up to expand to fit their store and product needs when they are ready to turn that feature on.  We are also maintaining their site so we will be there to help them through this process when that time does come.

Our new design for their Website included:
Website Maintenance: regular updates, backups, optimization, monitoring & security scans.
CMS: easily manage, edit and add content as needed through the WordPress content management system.
The most Current Coding Syntax, through a WordPress platform.
Our Deliverables
Our new Responsive design for System Resale Solutions displayed on different devices!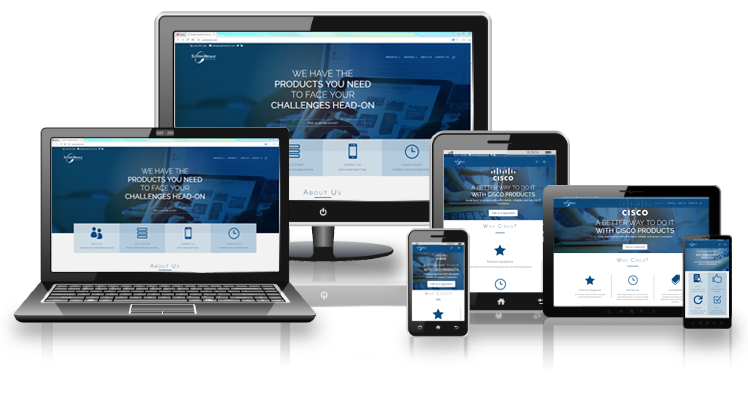 How our great design worked for our client!
We worked hard with our client to understand their needs to be able to give them the website they needed for their business to be successful.
Our final product met their goals and gave them the options they were looking for in the future for their new website design.  We were very grateful for the chance to work on this project with System Resal Solutions and we are happy they loved the end result. 

Our Recent Work
Check out some of the other projects we have completed for our amazing clients
Are you a company in the same situation and are interested in having your site redesigned?
Give us a Call 1-866-320-0011 or please fill out the form if you would like to get a quote for design work. We will send you a questionnaire to fill out so that we can provide you with an accurate quote for the work you wish to have done.
What we can help you achieve
Responsive Website Design | Fresh Perspective | SEO | User Friendly Site