Our Client
Learning a little about our client and their needs for their website
Who they are and why they needed our help:
The goal of Guelph.org is to get the Community involved by submitting their business listing to be featured on the website.  The website is to be a list of all different types of businesses in the Guelph region so people visiting the area can find the best places to eat, drink, buy Internet, go shopping, hang out in a great park, find a historical landmark or whatever their hearts desire.  They will be able to explore the website and find just about anything with a few simple keystrokes.
It also gives local business a chance to advertise on the site – – get their names out there to a new audience.  Guelph.org is also a great support to the non-profit community, and any non-profit service, church, camp or park is able to list their service on the site at no charge.

Site Structure and Syntax outdated
 The site needs a Logo and Colour Scheme
No SEO and therefore not ranking well
 SPAM! – – The website is hit with tons of SPAM IPs coming in daily

Our Clients must-have list:
 The ability for visitors to Submit their Listing for Review Online securely
 An area to Explore Listings
A Responsive website to allow viewers to access their site no matter what device they use and see a cohesive design
 Fresh, Modern, Easy to Use website design
 Highlight Featured Listing Section
 An area to Feature Local Events
Our Solution
How we helped our client solve their problem!
An area to Explore Listings
Guelph.org wanted an area for users to be able to search for different businesses in their area.  We gave them 2 different ways to do this:

1. On the Home Page, right in the header – – It not only allows users to look up local businesses, parks and other local places in their area it also allows them to look up events that are going on or up and coming in their area.

2. There is also a separate "Explore Page" that allows users to search by using filters to search using further details: categories, area, and features – – and shows the results on a map.
Submit Listings for Review
It was important to allow potential business listings to securely submit their listing to us for review to be featured on the community website.  We put a call-to-action button to "Add Listing" in the navigation bar and fixed it to the top of the page so that it is always available to site visitors.  It was very important that the form be secure – – we went with two-digit verification.
We created a fresh look for the Guelph.org Community website that not only looks good but also functions great.  This modern site performs well and has a quick response time.  We created the site to be Responsive – – which is extremely important with many users visiting sites on their mobile devices.  This way, no matter what device a user visits the site on it will look and function properly.
We created an area to display the listings that are special and are being "Featured" on the site.  These listings will be the first listings seen by visitors on the site.
We gave them a special area on the home page to highlight local events happening in the area.  This section also allows users to explore all events and gives local businesses the opportunity to submit an upcoming event for review.

Our new design for their Website included:
Fresh, New, Responsive Design: Users can access their site no matter what device they are using.
Functionality: potential listers can easily submit their listing online, visitors can explore listings, see events, news and much more all in one location.
Maintenance Package: we continued to use the CMS WordPress which we maintain and update on a regular basis
The most Current Coding Syntax, through a WordPress platform.
Our Deliverables
Our new Responsive design for Guelph.org displayed on different devices!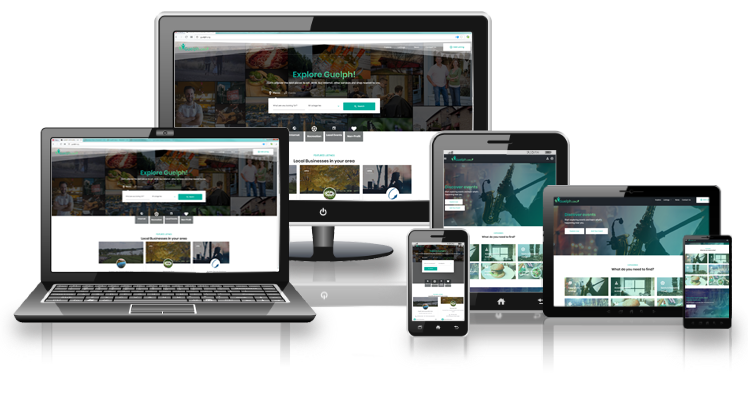 How our great design worked for our client!
We worked hard to understand the needs of the community in order to give them what they needed for the website to be successful.
Our final product met their goals and gave them the options they were looking for in the new website design.  We were grateful for the chance to work on this project and we are happy with the end result. 

Our Recent Work
Check out some of the other projects we have completed for our amazing clients
Are you a company in the same situation and are interested in having your site redesigned?
Give us a Call 1-866-320-0011 or please fill out the form if you would like to get a quote for design work. We will send you a questionnaire to fill out so that we can provide you with an accurate quote for the work you wish to have done.
What we can help you achieve
Responsive Website Design | Fresh Perspective | SEO | User Friendly Site