Our Client
Learning a little about our client and their needs for their website
Who they are and why they needed our help:
Pleasant Beach Campground is a local campground in the Sherkston, Ontario area that offers camping for multiple types of campers.  From daily trailer or tenting sites to seasonal trailer sites. They also offer their visitors the ability to rent either one of their lovely trailers or cozy rustic cabins.  There is something for everyone.  Their goal is to "Help Families get the most out of their Vacations" and enjoy their time to the fullest.
Tami and Kurt, the new owners of Pleasant Beach Campground, came to us with an idea and a goal in mind for their new business.   Since it was going to be their 1st year running the campground they wanted to start in the right direction.  To have a fresh new look and to get the business online so that it's accessible to as many visitors as possible.

Since our client; Pleasant Beach Campground was starting fresh they needed:

Our Clients must have list:
 An easy to use CMS (Content Management System) so that they can edit, add content and manage reservations
 The ability for visitors to make Online Reservations – with a responsive shopping cart
 Responsive website to allow viewers to access their site no matter what device they use and see a cohesive design
 An Events calendar and blog to inform visitors of news, updates, events, and important information about the campground
 Highlight Park Features – new features and improvements were added to the campground to give their visitors a better stay
Our Solution
How we helped our client solve their problem!
Tami & Kurt wanted to give their visitors flexibility in making reservations.  Allowing their users to book their reservations online was at the top of their must-have list.  We gave them an Online Booking System.  The system allows them to: have multiple types of sites for users to book, check in and out dates, the ability to group days, put restriction/rules on bookings, add extras to their bookings, give discounts depending on the # of days booked, the ability to pay securely online and much more.
Having a Responsive website was also very important to our client.  Allowing their users to access their site on any device was key, as they did not want to miss out on potential visitors going elsewhere because they could not access their site on a mobile device.  Therefore we designed their site responsively which adjusts seamlessly depending on what device their visitors are viewing it on.
Being able to manage their website easily was crucial.  We designed their site using WordPress, an easy to use Content Management System, which allows them to manage reservations, and easily add & edit content as needed.  We also did a few online shared screen sessions to help them fully understand certain areas of the CMS and answer any questions they had.
Since this was their 1st year running the campground they have made many updates, improvements and added new features to the park to better serve their customers and to provide a fun vacation destination.  We gave them a section to highlight each feature for their viewers to see how dedicated they are to their customers stay with them at their campground.
Event Calendar – to inform visitors of news & events taking place at the campground during their stay.

Weather widget – shows users the current weather at the campground.

Social Media Integration – users can stay connected & up to date with them.

Local Attractions – we gave them a section to highlight other local attractions for their visitors to enjoy during their stay at the campground.

Our new design for their Website included:
Fresh, New, Responsive Design: Users can access their site no matter what device they are using.
Functionality: users can easily make online reservations, view photos, see events, news and much more all in one location.
User-Friendly content management system allows our client to manage their website and reservations.
 HTML5 and CSS3; the most current coding syntax, through a WordPress platform.
Our Deliverables
Our new Responsive design for Pleasant Beach Campground displayed on different devices!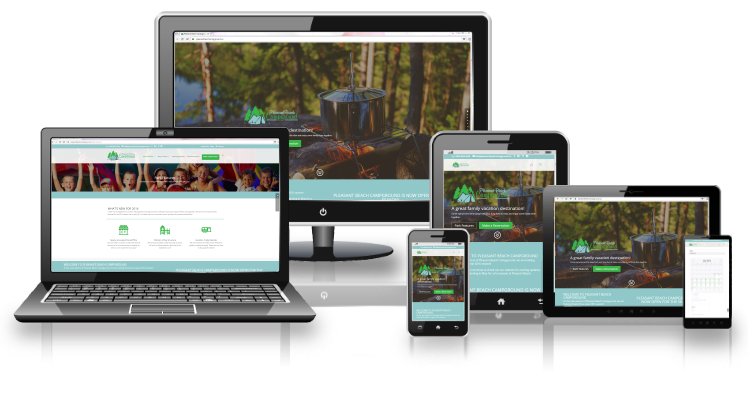 How our great design worked for our client!
We worked hard with our client to understand their needs to be able to give them the website they needed for their Campground to be successful.
Our final product met our client's needs and gave them the options they were looking for in their new website design.  We were grateful for the chance to work with Tami from Pleasant Beach Campground on this project and we are happy they loved the end result. Below you can see what Tami had to say about the final result and what is was like working with AllCore on this project.

The website looks fantastic! Kurt and I are so happy with it. It's exactly what we wanted. Thank you for all your help!

Tami Harvey

Launch of Website
We are getting so many positive comments on the website! Everyone loves the look and organization of it.

Tami Harvey

Website Design
Our Recent Work
Check out some of the other projects we have completed for our amazing clients
Are you a company in the same situation and are interested in having your site redesigned?
Give us a Call 1-866-320-0011 or please fill out the form if you would like to get a quote for design work. We will send you a questionnaire to fill out so that we can provide you with an accurate quote for the work you wish to have done.
What we can help you achieve
Responsive Website Design | Fresh Perspective | SEO | User Friendly Site