Our Client
Learning a little about our client and their problems with their website
Who they are and why they needed our help:
DRC Publishing is a publishing agency based in St.John's, Newfoundland that publishes fiction and non-fiction for adults and children and is interested in all genres.  Their philosophy; "We love books and writers and we want to share the written word with the world", speaks to who they are.  They pride themselves on being personable with one-on-one interaction with their authors and offer them profit sharing.
Due to a server anomaly and that the client never executed any site backups they lost their entire website. They needed their site recreated in a timely manner and wanted a design that was fun, easy to use and that gave them the ability to sell their authors' books online.

Custom CMS (Content Management System); client had no understanding of how it worked or how to make changes – limitations to clients site
Errors adding new books and images to the site
Due to the fact that their site was lost and they had no back up we were going on what the client informed us on

Our Clients must have list:
 An easy to use CMS (Content Management System) so that they can edit and add books themselves
 A slider on the homepage to showcase new books published and available
 A blog to update users of new releases, book signings, and other news
 A section to showcase Featured Authors
 Ability to Sell their authors' books online
Our Solution
How we helped our client solve their problem!
After speaking with our client and understanding their needs we decided that using the WordPress Content Management System would work best.  It is easy to use and understand, the dashboard is clean and straight forward and we also executed a few shared screen sessions with our client to go over the different scenarios they would be doing regularly so there would be no confusion once the site was handed over to the client.
Having a slider that displayed the most recent books published was very important to our client. We gave our client the slider on the homepage as well as different sections to feature different books by category, most popular, featured books, sales and more.
Our client wanted to be able to sell their authors books online. We were easily able to give this option to our client to not only sell the hardcover copy of their authors' books but also the e-book version of those books if available.  The shopping cart platform is clean and easy to use.
DRC Publishing wanted a section to feature specific authors.  They wanted to be able to list the author's name and have a small bio underneath. We also gave them the ability to link a library of all the corresponding authors' books so their users can see and potential purchase all the books that specific author has written and published in one location.
We configured their blog to be a pageless design that paginates as the user scrolls down the page with a right sidebar that shows recent posts and the different categories of the posts. Our client can post any news, book launches and book signings within their blog.

Our Redesign for their Website included:
Professional, Functional, Responsive Design: Users can access their site no matter what device they are using.
 HTML5 and CSS3; the most current coding syntax, through a WordPress platform.
User-Friendly: content management system that is easy to use and we showed the client how to use.
E-Commerce: users can purchase their books; hard-copy or e-book (for some), right on their website.
Our Deliverables
Our new Responsive design for DRC Publishing displayed on different devices!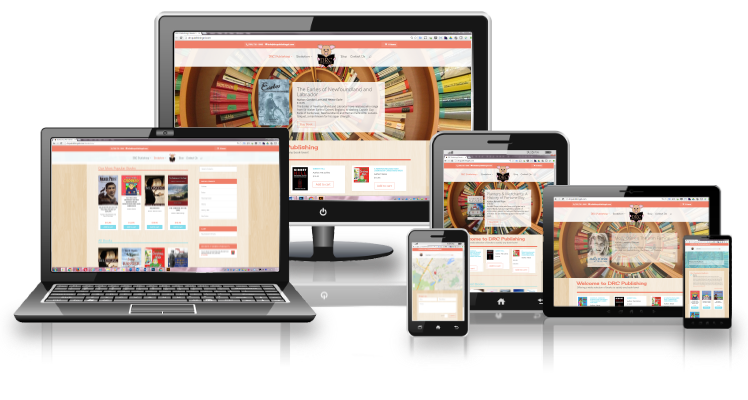 How our great design worked for our client!
We worked hard with our client to understand their needs to be able to give them the website they needed for their business to be successful.
Our final product met all our client's needs and gave them options they did not even think possible.  We were grateful for the chance to work with Jean from DRC Publishing on this project and we are happy they loved the end result. Below you can see what Jean had to say about the final result and what it was like working with AllCore on this project.

They put us in touch with Tiffany Robinet who is wonderful to work with and did a great job constructing our new website.

Jean Stacey

How did AllCore solve your problem/improve your business?
Yes, I am happy with the website. I like everything about it and particularly that Tiffany has shown me how to upload and do things myself.

Jean Stacey

Are you happy with your new website? What are your favourite features of the site?
My experience with Tiffany. Positive all the way. She is knowledgeable and always willing to help.

Jean Stacey

What did you like most about working with AllCore?
Our Recent Work
Check out some of the other projects we have completed for our amazing clients
Are you a company in the same situation and are interested in having your site redesigned?
Give us a Call 1-866-320-0011 or please fill out the form if you would like to get a quote for design work. We will send you a questionnaire to fill out so that we can provide you with an accurate quote for the work you wish to have done.
What we can help you achieve
Responsive Website Design | Fresh Perspective | SEO | User Friendly Site