Reliable website hosting solution with
AllCore's Cloud Servers
Cloud website hosting is the new phenomenon in the website hosting industry and is being seen by many as the new popular choice at this moment in time for businesses that want a reliable website hosting solution without the price tag of a dedicated server. Cloud hosting solutions are designed with the sole purpose of hosting data across a cluster of servers for two reasons; to prolong the reliability of the data and to prevent data loss in the event that one of the servers in the cluster malfunctions for whatever reason.
Flexible Cloud Servers are also known as VPS (Virtual Private Servers) which are dynamic (that is, it can be changed at runtime) this allows us to add additional virtual hardware resources like (CPU, RAM or Hard Drive space) as our clients' needs grow.
Server can also be moved to other hardware while the server is running (automatically according to load in some cases) to increase the Flexible Cloud Server resources or to repair the server without any downtime to the client.
Think outside the box, go virtual!
Call 1-866-320-0011 to Order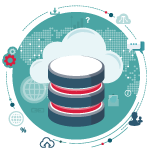 Built on Dell Power Edge hardware with Raid10 Hard Drives in our own private cloud, in our own privately built and operated Canadian Data Center.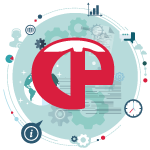 As a cPanel partner, cPanel is our control panel of choice for all of our Linux based Flexible Cloud servers. We offer cPanel & CloudLinux as it provides the largest selection of tools and easy-to-use software for website owners to manage their website hosting accounts & servers.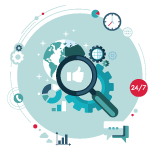 Bypass our Level I and Level II technical support teams and deal directly with our Level III Support team for any technical support issues you may have.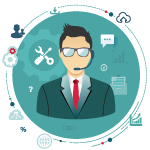 Deal directly with your dedicated account manager who will teach you all about our other products & services and how they can help you grow your business and increase your monthly revenue!
5
Operating Systems Available
This great service starts as low as $50.00/month. Contact us today to get this great service!
You can call 1-866-320-0011 or fill out the form and we will get back to you as soon as possible.
What we can help you achieve
Reliable Website Hosting | Dynamic Solution | Become Worry Free
Why Choose AllCore Cloud Servers?
Affordable Server Pricing
35%
Tier 1 Server Hardware
85%
Premium Technical Support
55%
Customer Satisfaction
100%
How we stack up where it matters!
Learn why AllCore is the right choice for Cloud Servers
At AllCore our focus is to leverage technology in an effort to simplify the life of our business clients. In order to achieve this goal we are constantly exploring new technologies, solutions and their applications for our clients.
Choosing a dedicated server partner can often be a challenge, is your partner reselling someone else's service at a markup? Do they have the ability to support you when things break? At AllCore our dedicated servers are in our privately owned data center, so no matter what server you choose (cloud / VPS / dedicated) our team knows how to help in any situations that arise.
Our sales team is always available to help you choose the best dedicated server solution.