S

earch

E

ngine

O

ptimization
Increase traffic to your website through "natural", "organic" search results!
With AllCore's SEO solution
Search Engine Optimization (SEO) is the process of affecting the visibility of a website or a web page in a search engine's "natural", "organic" search results.  In general, the earlier/higher ranked on the search results page, and more frequently a site appears in the search results list, the more visitors it will receive from the search engine's users.  If you are receiving more users to your site from being ranked higher you could get more sales, high click backs, beat out your competition, and increase the marketing/branding of your company.
An important aspect of SEO is making your website easy for both users and search engine robots to understand. Although search engines have become increasingly sophisticated, they still can't see and understand a web page the same way a human can. SEO helps the engines figure out what each page is about, and how it may be useful for users.
There are a few key aspects to good on-page SEO and we can help you with those. Our staff will work with you to figure out which key word phrases your ideal customer is using and we will optimize your site accordingly.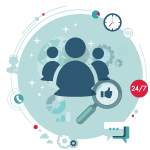 The majority of search engines users tend to choose one of the top 5 suggestions in the results page so it is to your advantage to rank higher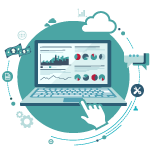 If two web sites are selling the same thing, the search engine optimized web site is more likely to have more customers and make more sales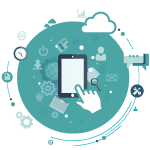 If users find your site easy to use and a pleasure to be on they will return and recommend your site to others which could increase your sales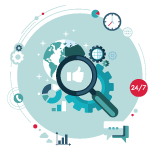 User's trust search engines and having a presence in the top positions for the keywords the user is searching increases the web site's trust
Webmaster Tools and Analytics
Contact us today to get this great service!
Please give us a call or fill out the form and we will get back to you as soon as possible.
What we can help you achieve
Increase Traffic | Improved User Experience | Increase Sales | Gain Trust
Why Choose AllCore's SEO Solution?
Organic searches clicked on
70%
Users never scroll past the first page
75%
Average increased revenue
40%
Online experiences begin with SEO
93%
Users ignore paid ads focusing on organic results
80%
How we stack up where it matters!
AllCore is the right choice for your SEO
We understand the importance of organic on-page SEO and the impact it can have on your company's website.
We will work with you to increase your websites SEO with the goals to increase traffic, ranking, user experience, trust and more.