Get the green bar and know your site is secure
With AllCore's SSL Certificates
Today's online shoppers are savvy about online security. Before completing a transaction or sharing personal information with you, online visitors need to know that your website can be trusted. Secure Socket Layer (SSL) Certificates provide a visual indicator that your website is legitimate and secure.
When choosing an SSL Certificate, consider the brand recognition, turn-around time and investment cost that is right for your business. Start building consumer confidence and online profit by selecting an SSL Certificate that fits you best.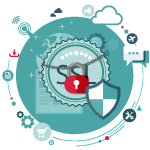 A secure site seal will show all users that the site has been protected. You can display it on your website so that potential customers visiting will automatically know that the site has 256-bit encryption. They will know that they are protected and will trust the website. The more trust they have, the more sales you will make.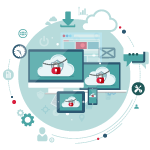 Browser and devices compatibility is the most important part of SSL usage. The SSL Certificates we sell are supported by 99.9+ browsers and devices.
Improve Your Search Engine Ranking
Establish trust and online security for your website visitors and business.
Google wants to make the web safer and a big part of that involves making sure that the sites people access via Google are secure. That's why websites using SSL have been shown to benefit from higher ranking in search results.
There's also a lot more reasons why you should consider adding SSL to your website:
Secure online transactions
Activate HTTPS and the lock icon
RapidSSL
RapidSSL certificates are among the most affordable in the industry.  Buy a certificate and speed through enrollment with automated domain control validation.
Symantec Secure Site SSL
Cost-effective protection and industry defining strength.  Protect your non-transactional and/or internal sites with up to 256-bit encryption. Without spending any more than you have to.
GeoTrust QuickSSL Premium Wildcard
With QuickSSL Premium wildcard certificates, you get unlimited subdomains and on an unlimited number of servers – one certificate that will adapt as your business grows.
GeoTrust QuickSSL Premium
These certificates are one of the quickest ways for you to start protecting online transactions and applications with SSL. With GeoTrust, you get inexpensive SSL without sacrificing convenience, choice, or reliability.
Contact us today to get this great service!
You can call 1-866-320-0011 or fill out the form to find out about our other SSL Certificates we carry and we will get back to you as soon as possible.
What we can help you achieve
Secure Your Site | Process Secure Transactions | Securely Store Information
RapidSSL
from $

21.96

Per Year
 $10K Warranty
Most affordable in the industry
Up to 256-bit Encryption
Automated domain control validation
We keep our costs down and pass the savings on to you.
Great for Personal Websites
Order Now
GeoTrust Quick SSL Premium
Most Popular
from $

97.14

Per Year
A low-priced SSL Certificate issued in minutes with an extended warranty.
$500K Warranty
Dynamic Site Seal
up to 256-bit Encryption
Only 10 mins to issue
Mobile Friendly
Great for Small Businesses
Order Now
GeoTrust True BusinessID
from $

121.76

Per Year
$1,250,000 Warranty
Globally trusted certificate authority
Great for Business Validation
Site Seal
up to 256-bit Encryption
Mobile Friendly
Order Now
Upgrade to Extended Validation SSL
While all SSL certificates use similar methods to protect and validate your data, the level of trust and assertion they provide varies.
Extended Validation Certificates offer the highest level of validation and trust. They validate and display the name of the company or organization along with the green address bar which is one of the most highly recognizable trust indicators on the web.

Why Choose AllCore SSL Certificates?
Tier 1 Server Hardware
85%
Premium Technical Support
55%
Customer Satisfaction
100%
How we stack up where it matters!
Learn why AllCore is the right choice
At AllCore our focus is to leverage technology in an effort to simplify the life of our business clients. In order to achieve this goal we are constantly exploring new technologies, solutions and their applications for our clients.
A new domain name and an SSL certificate can give your website the professional image you need to take your business to the next level.
Need help picking the right SSL certificate? Ask our team about which one is the right choice for your business or find out how you can get your SSL certificate for free with our E-Commerce hosting plans and save a bundle.