Consistency is the core idea that makes up your company
Driving it, showing what it stands for, what it believes in and why it exists!
The most important aspect of creating a brand
Is being Cohesive
AllCore's design team knows the importance of having your visual branding be cohesive with your brand identity.  The fundamental idea and core concept behind having a 'corporate image' is that everything a company does, everything it owns and everything it produces should reflect the values and aims of the business as a whole.
Creating your branded documentation can be time consuming but the alternative, throwing something together on a whim is not going to do your company any justice.  Brand style guides help to maintain a consistent look so that consumers and employees understand the brand. These guides help create uniformity and take a business from being just a company, to becoming a brand.
We will work with you and your corporate identity guides or brand style guides to create amazing branding documentation you can use to send to potential clients to promote your products or services.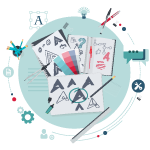 A logo identifies a business in its simplest form via the use of a mark or icon.  A logo must catch the attention of the viewer to create a feeling for the company's product or services.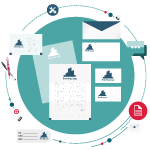 To keep your brand consistent it is important that your business stationary; letterhead + business card + envelopes, etc. be represented in the true form of your business brand identity.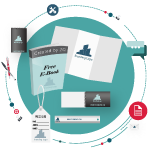 Your collection of media designed to be cohesive with your brand identity is used to support and generate the sales of your products or services through flyers, brochures, e-books, etc.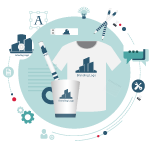 Products & Packaging Design
If you have an event coming up and want consumers to go away with a little something to remember your company by having a product with your brand identity on it is a great way to do this. 
Contact us today to get this great service!
Please give us a call or fill out the form and we will get back to you as soon as possible.
What we can help you achieve
Increased Sales | Cohesive Brand Identity | Marketing Material | Logo
Why Choose AllCore Visual Branding?
Set you Apart from the Competition
90%
Tell your story, values and goals
100%
Represents your Promise to your customer
88%
Create interest, connect emotionally
75%
How we stack up where it matters!
AllCore is the right choice for your Visual Branding
Your brand is how your customers are going to perceive you. It is critical to be aware of your brand experience and have a plan to create the brand experience that you want to have.
Here at AllCore we know the importance of this and can work with you to create the brand identity that is right for your company.