Transform your phone system
Into a cost-cutting, worry-reducing, sales-driving machine!
Get an Enterprise-grade VoIP phone system
With AllCore's Hosted PBX
A phone system that keeps pace with the growth of your company and propels your business higher. Give your business and staff a competitive advantage by allowing them to communicate with your customers from anywhere as if they were in the office!
A Hosted PBX system takes your companies phone system out of the "phone closet" in the back of your office and puts it in the cloud, taking advantage of all the benefits the cloud has to offer. Reducing your monthly costs for your phone system and your lines and your calls across Canada & United States.
Gone are the days of maintaining old equipment at really expensive costs; in today's business world, we include the cost of the phone system, the handset, and the line into one cost effective solution so you can focus on growing your business and not worrying about how much your phone bill will be. Every hosted PBX account comes with all the features included, at no extra cost!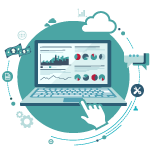 Communicate with enterprise-grade levels of professionalism and efficiency, support customer-focused processes with advanced features and you get to keep your existing phone numbers.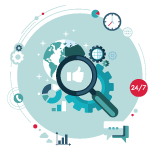 Ensure peace-of-mind with the highest levels of reliability.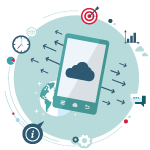 Simplify IT administration with powerful and intuitive online control panel. Configure your phone system to match your business processes, scalable if new employees are hired/reduced.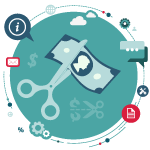 Preserve your capital by slashing operating expenses, eliminate maintenance, upgrades, software licenses and telco charges
Automated attendant (IVR)
Answers and routes every call
Hunt groups
Ring multiple people at once to ensure no call goes unanswered
Call recording
Record and replay calls on demand
Respond faster
Using voice-to-email – Enable smartphone, tablet or laptop to make and receive calls using your company number
Conference Calling
Simplify collaboration, connect up to 20 people on the same line with a dial-in number, no reservations required, and unlimited and pay-per-use billing.
Unlimited calling
Local & Long Distance in North America
Phone Numbers
Includes one 800 Number setup and keep your existing number
Find Me/Follow Me
Automatically forwards calls to your mobile when away from your desk
Click-to-call
Connects your phones with Outlook and Lync to replace dialing with clicking
Contact us today to get this great service!
Please give us a call or fill out the form and we will get back to you as soon as possible.
What we can help you achieve
Drive Sales | Cut Costs | Increase Reliability | Become Worry Free
Why Choose AllCore Hosted PBX?
Unlimited Local Calls
35%
Unlimited Long Distance across Canada & USA
75%
Savings For Your Business
55%
Premium Technical Support
65%
Customer Satisfaction
100%
How we stack up where it matters!
AllCore is the right choice for your Telecom Services
At AllCore our focus is to leverage technology in an effort to simplify the life of our business clients. In order to achieve this goal, we are constantly exploring new technologies, solutions and their applications for our clients.
Our VoIP phone services offer features that many of our competitors simply cannot match. On average, our clients save between 25% – 55% on their telecom bills. Let us show you how you can put money back in your pocket.

Presented for the entire company, despite its being geographically distributed. A company could even choose to have no premises, with workers connected from home using their domestic telephones but receiving the same features as any PBX user.
Employees can access the network via a variety of telecommunications systems, including POTS, ISDN, cellular phones, and VOIP. This allows one extension to ring in multiple locations (either concurrently or sequentially).
Supports integration with custom toll plans (that allow intra-company calls, even from private premises, to be dialed at a cheaper rate) and integrated billing and accounting (where calls made on a private line but on the company's behalf are billed centrally to the company).
Call Display, Call Display Blocking (*67), Call Forwarding, Call Privacy, Call Hold, Call Screening, Call Transfer, Call Waiting, Call Answer, Do-Not-Disturb, Last Call Return, Speed Dial, Voice Mail, Three-Way Calling, Visual Call Waiting and more.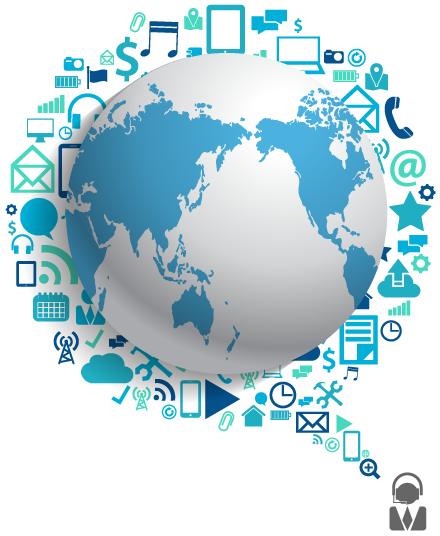 A Hosted Private Branch Exchange (PBX) is hosted or located in our data center.  By hosting the PBX in our data center we can provide additional features, services, and support to our clients at a fraction of the cost of a traditional PBX.
A Session Initiation Protocol (SIP) trunk is a direct connection between your Voice over Internet Protocol (VoIP) server and our VoIP core in our data center.  The primary use for a SIP trunk is to provide VoIP telephone services and unified communications in a more flexible and cost-effective manner.
Yes, we can terminate a toll free number on any phone in Canada and the USA.