Our Client
Learning a little about our client and their needs for their website
Who they are and why they needed our help:
Hair & Spa Retreat offers a wide range of dynamic treatments in the Burlington, Ontario area.  From their women's and men's hair retreat, massages and facials in their spa retreat, to manicure and pedicure treatments in their nail retreat.   They have something for everyone.  Their main focus is their clients and helping them to relax and feel renewed.
They wanted a site that was fresh, simple, and professional that could showcase the amazing services they offer.  They also wanted to get their name out there and bring in new clients.

Since our client was starting fresh they needed:

Our Clients must have list:
 Focus the site around their locations Tiled Backsplash
 Simple design – to focus on the services
 A Gallery section to highlight their staffs quality and skills
 Ability to Request an Appointment
Our Solution
How we helped our client solve their problem!
A Fresh, Simple and Professional Web Design
Our clients were adamant about keeping the site simple and showcasing the tiled backsplash they have in the salon & spa on their website.  We used the tiled backsplash as the main focus of the site by using it as the background of the site.  We also created a clean and simple layout of the site that our clients were extremely happy with.
We made sure to showcase the amazing services they offer at their retreat; giving their potential clients a good idea of what each service entails and what they can expect when visiting.
Our clients requested a section on their site to showcase the amazing skill levels of their staff.  This shows potential clients the quality of service they can expect to receive when they come to Hair & Spa Retreat.
We designed their site responsively allowing their users to access their site no matter what device they are using.  Their content adjusts depending on the users' screen size; this helps to navigate easier and be aesthetically pleasing on all platforms and devices.
Hair & Spa Retreat wanted their clients to have the ability to request an appointment online. We gave them a secure form that will allow clients to do just that. This gives their users a variety of options to contact the clinic; allowing them to choose which option works best for them.

Our Redesign for their Website included:
Professional, Functional, Responsive Design: Users can access their site no matter what device they are using.
Website Maintenance: regular updates, backups, optimization, monitoring and security scans.
 HTML5 and CSS3; the most current coding syntax, through a WordPress platform.
Implemented SEO: pages optimized for specific search queries.
Our Deliverables
Our new Responsive design for Hair & Spa Retreat displayed on different devices!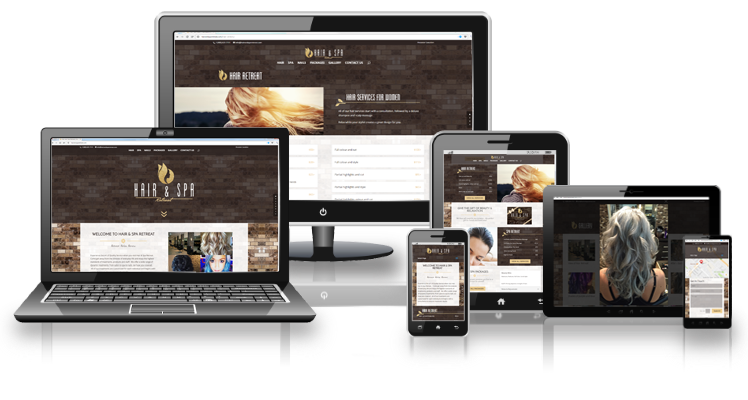 How our great design worked for our client!
Our new Responsive design for Hair & Spa Retreat
We worked hard with our client to understand their needs to be able to give them the website they needed for their business to be successful.
Our final product met all our clients' needs and gave them options they did not even think possible.  We were grateful for the chance to work with Hair & Spa Retreat on this project and we are happy they loved the end result.

Wow, that was quick! Awesome. Thank you .. I really like this service!


Our Client - Lynda Nguyen

On making edits to their website
Our Recent Work
Check out some of the other projects we have completed for our amazing clients
Are you a company in the same situation and are interested in having your site redesigned?
Give us a Call 1-866-320-0011 or please fill out the form if you would like to get a quote for design work. We will send you a questionnaire to fill out so that we can provide you with an accurate quote for the work you wish to have done.
What we can help you achieve
Responsive Web Design | Fresh Perspective | SEO | User-Friendly