Our Client
Learning a little about our client and why they came to AllCore
Who they are and why they needed our help:
CrossFit Karst is a CrossFit Box in Hamilton, Ontario.  Their goal is "Forging Elite Fitness" by helping their clients through; strength & conditioning, gaining muscle, losing fat, improving athletic performance, and improving one's health.  Their focus is on a community first environment that provides a motivating and challenging exercise program for everyone; from a newcomer to the fitness world, to an elite athlete!
CrossFit Karst was moving to a new location and wanted their website to represent the feel and environment of their new CrossFit Box.  We came up with a great solution for the design and functionality of their new website.  Scroll down to see some of the features we implemented in the design of the new CrossFit Karst website.

Errors: The site had a few options that did not work and a few broken links
Outdated: Their site was not being maintained; outdated plugins, theme, etc.
Non-responsive: the site layout did not adjust depending on the screen size, poor accessibility on mobile devices

Our Clients must have list:
 Continue to use the CMS (Content Management System) WordPress; they already know how to use it
 The ability to provide visitors information about CrossFit Karst and list their workout schedule
 Responsive website to allow viewers to access their site no matter what device they use
 Events calendar and photo gallery to inform visitors of news, updates, events, and show how great their CrossFit community is
 Social Media Integration to connect their Facebook

Our Solution
How we helped our client solve their problem!
Benefits of CrossFit Karst
Providing their clients with as much information about their CrossFit Box and CrossFit, in general, was very important to our clients.  CrossFit is relatively new so many do not know what to expect.  Informing people that CrossFit's focus is on; community, friendship, and a coaching team that will guide you every step of the way was crucial to CrossFit Karst.  We gave them a section to explain what CrossFit is all about and an area to highlight the benefits of joining the CrossFit Karst community.
Our clients were looking to have an area to list all upcoming CrossFit events.  We gave them an events section that lists all the upcoming and past events.  It allows them to put in detailed information about the event; venue, contact, dates, times, important details, organizers, and more.
Having a Responsive website was also very important to our clients.  Allowing their users to access their site on any device to view their schedule, contact info, hours and more.  Therefore we designed their website responsively which adjusts seamlessly no matter what device they choose to view their site on.
Having an online schedule was one of the top items on our clients must have list.  It is crucial to them to let their members and potential new members know when classes are being held.  This not only saves them a lot of time answering the same question "When's the next class", it also allows their members to plan their own personal workout schedule better.
Our clients use their Facebook and Instagram accounts to promote their CrossFit Box, to demonstrate WODs, to celebrate those in their community, provide information on workouts & meals, and much more.  We integrated their social feeds on their website to keep users connected to all their content sources.  This way everyone is staying up to date and informed on everything to do with CrossFit Karst.

Our Redesign for their Website included:
Fresh, New, Responsive Design: users can access their site no matter what device they are using.
Functionality: users can easily find info on the Box; program schedule, contact info, hours, events, benefits to joining the CrossFit Karst community, and more.
 Maintenance Package: we continued to use the CMS WordPress which we maintain and update on a regular basis
 HTML5 and CSS3; the most current coding syntax, through a WordPress platform.
Our Deliverables
Our new Responsive design for CrossFit Karst displayed on different devices!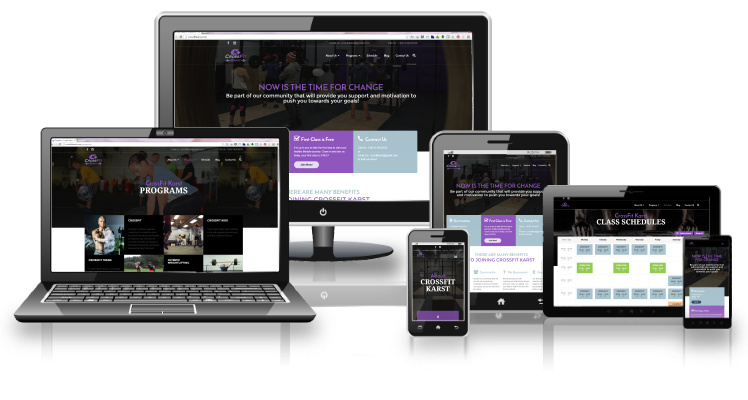 How our great design worked for our client!
Our new Responsive design for CrossFit Karst
We worked hard with our client to understand their needs to be able to give them the website they needed for their CrossFit Box to be successful.
Our final product met our client's needs and gave them the options they were looking for on their website redesign.  We were grateful for the chance to work with the team at CrossFit Karst on this project and we are happy they loved the end result. Below you can see what they had to say about the final result and what is was like working with AllCore on this project.

Thank you so much - the final product looks fantastic and is very professional looking! We love it.

CrossFit Karst

Launch of Website
Our Recent Work
Check out some of the other projects we have completed for our amazing clients
Are you a company in the same situation and are interested in having your site redesigned?
Give us a Call 1-866-320-0011 or please fill out the form if you would like to get a quote for design work. We will send you a questionnaire to fill out so that we can provide you with an accurate quote for the work you wish to have done.
What we can help you achieve
Responsive Website Design | Fresh Perspective | SEO | User Friendly Site