Our Client
Learning a little about our client and their needs for their website
Who they are and why they needed our help:
Bruyere Foot Specialists are highly qualified Chiropodists and Orthotics specialists in the Ottawa area, where there is a high demand for their services.  They recently moved to a new location and noticed their current website was not driving any new traffic, therefore bring in no new clients.
They are specialists in the treatment and prevention of foot diseases wanting to reach out to their community to help those in need of their services. A business that knew their website was hindering their goals and found a company that could help; AllCore. They needed us to figure out why their number of site visitors were reducing and wanted their users to be able to access their website from any device, which it currently did not support.
Current website was a complete duplicate of multiple other websites in the same field.
Google discovered this and ranked site very low and therefore their site was very hard for users to find when doing a Google Search.
Site contained "Flash" content which is not supported by all browsers or devices and was causing errors.

Our Clients must-have list:
Fresh new modern professional design.
A slider on the home page that will showcase events and news going on at the clinic.
A Form on the home page to allow clients to request appointments.
Easy to use menu and clean typography – they have clients of all ages so the site needs to user-friendly.
Our Solution
How we helped our client solve their problem!
The slider allows the Bruyere Foot Specialists to market any upcoming events and news going on at their clinic and foot spa as well as provide pertinent information about different medical conditions and tips to help their patients.
Adding a form on the main page for users to request an appointment is very important to our clients business.  It also saves them time by not having to call each customer and quickly reply to the email request.
The menu is simple and easy to use.  It breaks down all their services and knowledge base material as well as company information for their users to find quickly and easily.
The typography is a larger open sans font style that is easy to see and read which will server best for the wide variety of users that will be accessing the site.

Our Redesign for their Website included:
Professional, Functional and Responsive Design
HTML5 and CSS3; the most current coding syntax, through a WordPress platform.
Content management system allows them to make updates from an easy to use system.
Appointment form; clients can send in requests right from their site.
Completely new content written for their site to remove all duplicate content.
Our Deliverables
Our new Responsive design for Bruyere Foot Specialists displayed on different devices!
How our great design worked for our client!
Our new Responsive design for Bruyere Foot Specialists
We worked hard with our client to understand their needs to be able to give them the website they needed for their business to be successful.
Our final product met all our clients needs and gave them options they did not even think possible.  We were grateful for the chance to work with Bruyere Foot Specialists on this project and we happy they loved the end result.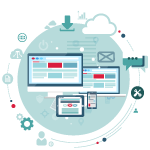 Users can access their site no matter what device they are using.
Content adjusts to screen size; to navigate easier and be aesthetically pleasing on all platforms and devices.
Professional, modern, user freindly
HTML5 and CSS3; the most current coding syntax, through a WordPress platform

 Regular Updates to WordPress Core, Theme, and all plugins
Secure Backups executed daily of all site files, images, and database
Database Optimization to reduce chances of corruption and problems
Monitoring and Security scans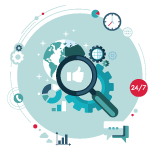 Removed all duplicate content
Writing keyword rich, easy to read content that was geared to their users.
Executed good on-page SEO for each page within their new site
Marketing campaign; they will not only rank higher but be optimized for popular specific search queries

"The client and our team were very pleased with how the final product for the Bruyere Foot Specialists website turned out. The day it launched Bruyere Foot Specialists had many compliments on the new site saying it was easier to use and find. Their clientele has increased since the launch of the new site and continues to grow.
Our Recent Work
Check out some of the other projects we have completed for our amazing clients
Are you a company in the same situation and are interested in having your site redesigned?
Give us a Call 1-866-320-0011 or please fill out the form if you would like to get a quote for design work. We will send you a questionnaire to fill out so that we can provide you with an accurate quote for the work you wish to have done.
What we can help you achieve
Responsive Website Design | Fresh Perspective | SEO | User Friendly Site