Our Client
Learning a little about our client and their problems with their website
Who they are and why they needed our help:
DND Finance is a multinational leasing and financing provider that specializes in serving small to medium sized businesses and entrepreneurial companies that are typically ignored by larger lenders. They were looking to unify their existing multiple websites into one new, fresh, cohesive brand!
They needed us to figure out how to seamlessly merge their existing websites (multiple sites – a separate one for each country branch) into one cohesive brand that would provide their clients with information and allow their clients to apply online.  DND Finance also needed an area to showcase their news and press articles along with their social networks. They also want a fresh, modern, responsive and professional look and feel for their site.
Current websites were a complete duplicate of one another; a separate site per country but the content was all exactly the same.
SEO the content and syntax was not written with SEO in mind and therefore not ranking well.
Sites outdated syntax and site structure was outdated.

Our Clients must have list:
Professional, Functional, Responsive, and Cohesive Website: bring all sites together into one unified website.
 Secure Form that allows potential clients to apply online.
 A section to Showcase Press Articles in a clean, organized fashion.
A Blog to write articles on many different business topics
Our Solution
How we helped our client solve their problem!
We created a fresh modern website for DND Finance that holds all their main content.  We then created separate landing pages for each country which details the difference in services they offer in the corresponding countries
The sticky menu is clean, simple to use and "sticks" to the top of the users browser allowing the menu to be accessible no matter how far down on the page the user scrolls. It outlines their company information, general knowledge on leasing and their services each country provides for their users to find quickly and easily.
We configured their blog to be a pageless design that paginates as the user scrolls down the page with a right sidebar that shows recent posts and the different categories of the posts. There is also a section for new users to subscribe to their blog which will notify them of new blog posts when they happen.
DND Finance wanted their clients to be able to apply online.  We gave them secure application forms for each country that clients can fill out online and submit right from the website or they have the option to print them off and fax them in.
DND Finance has a lot of press articles they wanted their users to have access to.  We created a section that organizes the articles that allows users to access them easily and transition from one to the next with out having to keep going back to the main page.

Our Redesign for their Website included:
Professional, Functional, Responsive Design: Users can access their site no matter what device they are using.
 HTML5 and CSS3; the most current coding syntax, through a WordPress platform.
Website Maintenance: regular updates, backups, optimization, monitoring and security scans.
Implemented SEO: removed all duplicate content, generated keyword rich new content, on-page SEO structure, pages optimized for specific search queries.
Online Application: ability for new potential clients to fill out a lease application form right online for each office.
Our Deliverables
Our new Responsive design for DND Finance displayed on different devices!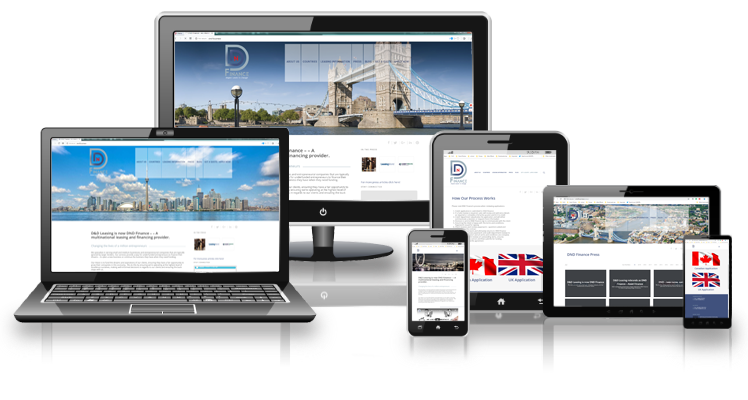 How our great design worked for our client!
We worked hard with our client to understand their needs to be able to give them the website they needed for their business to be successful.
Our final product met all our clients needs and gave them options they did not even think possible.  We were grateful for the chance to work with DND Finance on this project and we are happy they loved the end result.

The client and our team were very pleased with how the final product for the fusion of
DND Finance multiple websites into one cohesive brand turned out.
Our Recent Work
Check out some of the other projects we have completed for our amazing clients
Are you a company in the same situation and are interested in having your site redesigned?
Give us a Call 1-866-320-0011 or please fill out the form if you would like to get a quote for design work. We will send you a questionnaire to fill out so that we can provide you with an accurate quote for the work you wish to have done.
What we can help you achieve
Responsive Website Design | Website Maintenance | SEO | Fresh New Look