A 5 week series detailing the benefits for having a website
They say time is money.  As a small business owner you probably think you can't afford a professional website or do not have the time to get one up and running. In reality you actually can't afford NOT to have a website.  Although the cost of designing a website varies and there is a bit of time involved at the beginning; once it's up and running the outcome is well worth the effort.  Here are a few ways how having a website will help you save time and money.
A website saves you money on Marketing 
With your website you are advertising your company 24 hrs a day 7 days a week! You can add and change information immediately, not having to re-print material, getting it out to your users instantly. Online marketing can be interactive and really draw in your users, making them excited and wanting more. With print material people glance and then usually throw it away leaving no lasting impression.  You also have no way to measure what works with printed marketing compared to online marketing which you can measure with analytics. Plus compared with the cost of a newspaper ad, when you consider the potential market you can reach with a website, it is a very cost effective way to promote your business.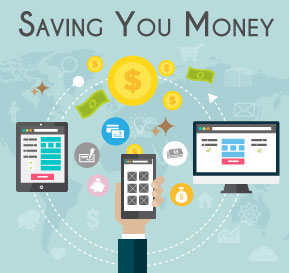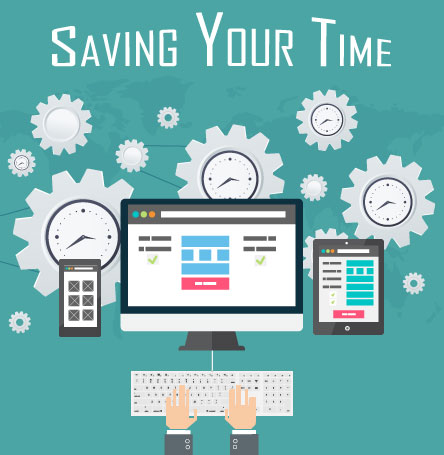 A website saves you time
As a business owner, you need to schedule your time carefully and put your energy into tasks that make you more money. Providing information to your customers takes time; whether it's on the phone, face-to-face, or in a brochure.  A website is a great way you can save yourself time. Through your website you can:
Provide general information about your business, products and services
Have an online store or catalog
Have a frequently asked questions section that covers the most commonly asked questions
Inbound marketing to advertise sales and new products
Once your website is up and running, it is available to your customers indefinitely, saving you time. And what is time? Time is money!
In conclusion having a website will save you time as updates are quick and easy.  As well as save you money; traditional marketing costs are expensive and hard to measure results. Your website hosting cost will be minimal compared to the new customers and new sales you could bring in. Having a quality web presence will also save your customers' time and makes their searching and shopping experience more enjoyable. Furthermore, if your customer has a good experience with your site they will tell others about it bringing in referral clients.
This wraps up our 5 week series on the benefits of having a website. If you missed last week's installment on how having a website can help you Gather Information you can read it now.