Today, for the average person, your life will, likely, involve you being connected to a computer or computer-type device.  This ranges to everything from work, communications, news, television, cell phones, media, shopping, entertainment … and the list goes on and on.  When your computer is working, life is typical and you can get things done.  On the flipside – when computers crash or you cannot access the Internet, or your electronic device is failing, life begins to go awry.  You've done the basic troubleshooting … but you are still having trouble.  The next step … call Tech Support.
A Technical Support Representative's duties can vary greatly from day to day and from hour to hour.  The questions can be very simple, or extremely complex, depending on the issue at hand.  Tech Support offers a vast amount of knowledge and experience to help fix or guide you on what needs to be done to get you working again.  Whether in person or over the phone, this resource is essential to making sure that life continues on normally.  Tech Support has one primary goal – solve the customer's problem to make sure they are happy.  But getting there can be difficult sometimes so today we are going to cover a few tips on how to communicate with Tech Support to make your life and theirs a little bit easier.
How can I help you?
Many people have relied on friends or family when something goes wrong.  You know these people and you treat them well – you need their help.  Sometimes it gets fixed and sometimes it does not.  When you call for Tech Support, you are probably already frustrated after spending too much time trying to fix the problem yourself, and the voice on the other end of the line is to be your superhero. These are people too … Their goal is simple – fix the issue and make you happy.  In order to accomplish this goal, Tech Support needs to know what happened and how it happened so they can resolve the issue at hand.
Much like working at the "Lost Luggage" desk at the airport, Tech Support calls (most often) happen when something goes wrong.  You are already upset and just want the problem fixed so that you can return to a normal existence.  That is what your Tech support wants too, remember you're on the same team.  Be patient, be kind and do all that you can to work together to solve the problem quickly, which will make everyone happy.
Challenges and Limitations
Your computer and electronic devices are setup to work a certain way. When something breaks, it can often be difficult to determine what caused the failure.
It's not out of the ordinary for Tech Support to request you to do what you may have already done; e.g. reboot the computer, check wires, etc. It allows your support team to eliminate recognizable causes and guide them through the necessary steps to help you alleviate the problem. Plus, they need to follow a series of steps and check off each step to remove some of the bigger issues before they can find the specific problem. Just like when your car doesn't start, one of the first things you do is check the gas gauge – if there is no gas, you need to fix that before you can check anything else. The same approach applies to Tech Support.
Occasionally, the problem cannot be fixed. Every electronic device has a lifespan; whether it is years or decades. Electronic devices have parts that will wear and tear over time or in the case of upgrades, compatibility has limitations. Even a dishwasher uses a specific soap – using liquid dish soap instead will have a messy outcome. An older electronic device or computer program may not always work when trying to communicate with today's updated technology.
Tips On How To Communicate With Tech Support
What can you do to make this difficult situation easier?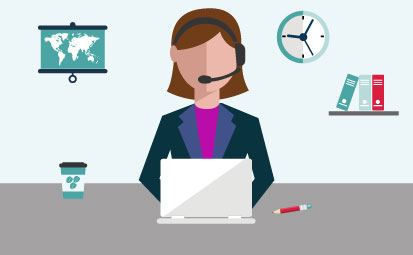 It doesn't end there …
When your device is working again, the Tech Support job does not.  The problem must be logged, identified and resolved.  Depending on the issue, procedures and/or fixes must be put in place to ensure the problem does not occur again.
With new or updated programs and technology being launched every day, Tech Support must be constantly educated and informed of changes or compatibility issues.  They must pass this information through the ranks and determine the most efficient way to resolve similar future issues.
The ideas behind these tips apply outside the computer world. Feel free to keep them in mind when your smartphone quits checking email or your DVR is stuck on one channel.
I can't promise that the experience will be enjoyable, but with these few tips hopefully when you communicate with tech support it will be a little less painful for you than it may have been in the past.