So let's recap, you have Windows 10 installed with all the great new security features and tools.  You also have an AntiVIRUS installed (preferably Webroot SecureAnywhere, sorry had to use this chance for a cheap plug), and you don't browse to any unfamiliar websites.
However, you use your mouse with reckless abandonment because you know you have that shining armor of security protecting you.  You look around your home or cubicle, knowing that you are in an impenetrable fortress and that you may use your keyboard as you see fit.
Then you get that one email; you click on the attachment and then everything you knew that was right with your fortress shrivels away.  Your shining armor begins to fade and rust and you look down at your mouse thinking "What have I done?".  Then you drop to your knees and yell to the computer gods "Why, why have you forsaken me!?". Next you grab your keyboard and smash! Okay, maybe I took this a little too far but I have a bit of a flair for the dramatic.
Protect your E-Mail accounts
By blocking it from SPAM before it reaches your inbox
People often forget that with all the AntiVIRUS protection installed, they still need a SPAM Prevention solution.  Think of it like Football.  Your computer is the Quarterback.  Yes, he has all the equipment and protection on but he still might get tackled.  That's why you need the offensive linemen in front of him to block those bad guys from trying to tackle the quarterback.  Our AntiSPAM Solution protects your quarterback … er, I mean computer.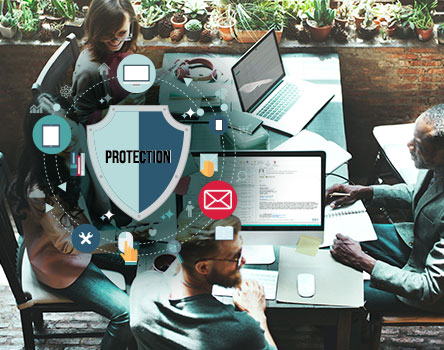 We offer a great SPAM Prevention solution without the cost of buying and maintaining the solution in-house. It protects your e-mail accounts from SPAM by blocking ads, fraud schemes, porn, viruses and phishing attempts before it reaches your inbox.   Our solution makes it simple to block spam without requiring the installation of software, hardware or placing a complex administration burden on you. We offer per-user or per-group anti-spam settings and quarantines, an intuitive simple end-user interface, graphical reporting tools and automatic updates.
Our goal was to deploy a SPAM Prevention solution that is customizable, easy to setup/maintain, and that would fit a small company's budget. We believe we have done just that with our Hosted SPAM Prevention solution.
Give us a call today toll free at 1-866-320-0011 and try our Spam Prevention solution free for 30 days!  Let us protect your computer so you can focus on you.