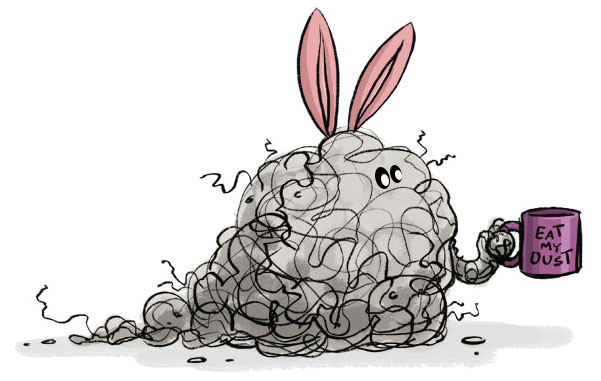 With the Easter weekend upon us, and lots of talk about spring and spring cleaning, we thought now would be the perfect time to take a moment to talk about bunnies… no, not the Easter bunny… dust bunnies.  You know the kind you find in and around your computer!
For many people their computer is a scary place, changing the settings or the thought of doing upgrades is something they refuse to even consider… no wonder they laugh at the thought of opening their computer to remove dust bunnies.
Well, we thought it was time to actually show our customers just how these little dust bunnies look!  You see your computer is designed to draw or pull air in from the front of most computer cases and laptops and pull it out the back by the fan and power supply so the hot air can escape.
Take this computer for example: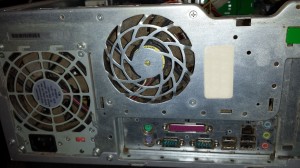 This is what the back of the average computer case looks like, most people will dust it off from time to time, some will even blow it off to get as much dust off as possible.
Now lets look inside: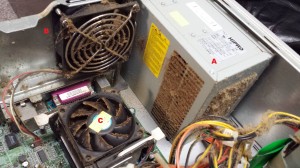 Can you see how much dust is stuck to the fan on the power supply (marked with a red "A") or the CPU fan (marked with a red "C").  This user has so much dust that they are not able to get the best airflow or heat exhaustion from their computer.
The problem is when you don't open your computer, you can't see the dust bunnies, and in fact, it is always best to have a trained technician clean and service your computer for you.
To get the best performance from your computer we recommend that you have your computer cleaned in the spring and fall both inside and out to remove dust bunnies.
Time to Remove those Dust Bunnies!
Ask us about our Easter Special:
We will pick up your PC
Clean it (inside and out)
Do a full backup
Scan it for viruses and malware
and return your PC to you
for Only $45.00  that's 50% off our regular price! 
And the first 100 customers that order the service get 1 year of our Cloud Backup for FREE! That's a $60 value!
Call us Today
Toll Free: 1-866-320-0011 then choose option # 1
Local: 1-905-481-3251 then choose options # 1
E-mail: sales@allcore.ca