You might ask what "Good On-Page SEO" is and why it is important.  Search Engine Optimization (SEO) is the process of affecting the visibility of a website or a web page in a search engine's "natural", "organic" search results.  In general, the earlier/higher ranked on the search results page, and more frequently a site appears in the search results list, the more visitors it will receive from the search engine's users.  If you are receiving more users to your site from being ranked higher you could get more sales, high click backs, beat out your competition, and increase the marketing/branding of your company.
So how do you achieve "Good On-Page SEO"?  There are a few key aspects you should focus on for each page of your site to make sure it will rank its best with search engine ranking.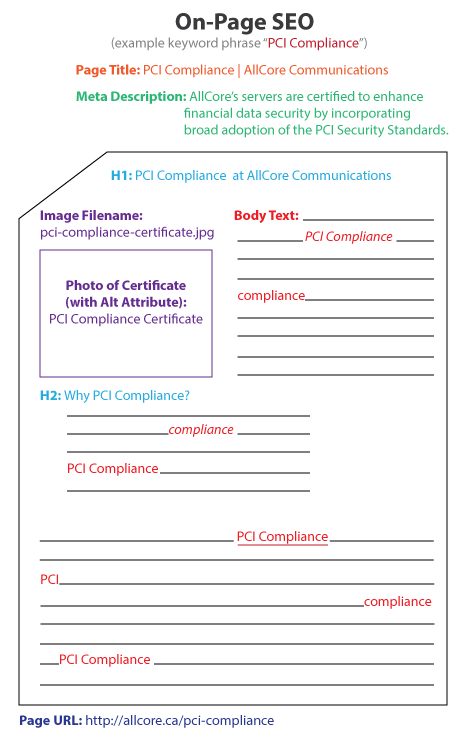 HTML Head Tags:
Title Tag – A title tag is the main text that describes an online document.  It is the single most important on-page SEO element (behind overall content) and appears in three key places; top of browser and tabs, search results page, and external websites.
Meta Description – Is a concise explanation of the contents of the web page, and is used by search engines to display a preview snippet for that given page on search result pages.  Usage has also been shown to help boost click-through rate, thus increasing the traffic derived from any ranking position.
Meta Robots – Instructions to the search engine on what to do with that page.
Rel="Canonical" – Refers to normalizing (redirecting to a single dominant version) multiple URLs.
URLs:
Length – Shorter URLs appear to rank higher in search results and are more likely to be shared by others.
Keyword Location – The closer the keyword is to the domain name the better.
Sub-folders/pages – SEO favors using sub-folders/pages rather than sub-domains.
Word Separators – Hyphens are still the king of keyword separators in URLs although try not to use them in your main domain name.
Body tags:
Number of Keyword Repetitions – When writing your good, quality content you need to use your keyword(s) or keyword phrase(s) particularly at the beginning as well as throughout the document.  There is no exact number on how many you should use however you also do not want to be keywords stuffing.  You could also use variations of your keyword term/phrase.
Heading tags – When using heading tags, make sure you use them correctly and relevant (keyword/phrase) to your content.
Alt Attribute – These have a strong influence in your ranking, make sure each image has and alt tag with a description of what the image is of, and using your keyword term/phrase is ideal.
File names – Make sure all your images, PDFs and any other files you might be calling on has a quality name, using your keyword in the name will help with your sites ranking.
Emphasized/Strong – Using your keyword in an emphasized tag hold a little more weight in on-page SEO than if it were in strong tags.
Internal links – Pages tend to rank higher if they have multiple pages linking to it.  It is better for these pages to have fewer clicks to access it.
By following these guidelines for each page of your website, you should achieve Good On-Page SEO and improve your sites ranking; however this is just the tip of the iceberg when it comes to Search Engine Optimization.  Check out our Pinterest to find great info graphics on SEO!