AllCore's Hosted PBX provides an enterprise-grade VoIP phone system that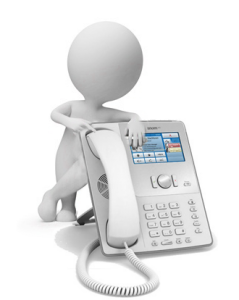 keeps pace with the growth of your company and propels your business higher. Our Hosted PBX Service is a boutique style offering where we can tweak our services to best fit your needs.
A growing company needs a phone system that improves their odds of converting every call into a sale. With AllCore's Hosted PBX you will get this and so much more!
FREE 800 Number
Keep your existing phone number
Ensure peace-of-mind with the highest levels of reliability
Drive Sales
UNLIMITED Local Calling
UNLIMITED Long Distance Calling in North America
Configure your phone system to match your business processes, scalable if new employees are hired/reduced
Cut Your Costs: Eliminates the need to pay other companies to manage on-site hardware maintenance
Find Me/Follow Me: automatically forwards calls to your mobile, tablet or laptop when you're away from your desk, using your company number
Integrated billing and accounting
Respond faster: using voice-to-email
Conference Calling: Connect up to 20 people on the same line
Superior onboarding and Support
There are endless options and modifications that are available to you to choose from. Here are a few other features that are offered with our service:
Automated IVR, Call Display, Call Display Blocking (*67), Call Forwarding, Call Privacy, Call Hold, Call Screening, Call Transfer, Call Waiting, Call Answer, Conference Calling, Do-Not-Disturb, Find Me-Follow Me, Last Call Return, Speed Dial, Voice Mail, Voicemail to Email, Three-Way Calling, Visual Call Waiting.
This is just the tip of the iceberg…. Find out more about AllCore's Hosted PBX online. OR give our sales department a call today and they can show you how you can SAVE between 25-50% off your current communications expenses.
Sales
Toll Free: 1-866-320-0011 then choose option # 1
Local: 1-905-481-3251 then choose options # 1
E-mail: sales@allcore.ca
Hours: Mon-Fri: 9:00AM – 5:00PM EST