High speed Internet, cloud storage, reliability, security, flexibility, and the list could go on when it comes to Internet services.  Today's consumers have a dizzying array of features and options available to them to choose from.  But what do consumers and small business owners really want from their Internet Service Provider?
Today consumers are becoming increasingly dependent on reliable Wi-Fi networks for a variety of uses.  As consumers now have multiple devices connected to their Wi-Fi networks; mobile phones, tablets, and numerous smart devices.  Therefore, it is extremely important that the performance of the Internet is dependable and strong.  The bandwidth required for all of these devices, particularly for activities such as streaming videos and on-demand TV programming, puts performance to the test and raises the expectations of providers.  These are things ISP's and consumers didn't need to worry about when selecting Internet packages before.  But today that is the norm for most households.  This means consumers need to find an Internet Service Provider that can handle their daily needs.
Here we will take a look at the top:
5 things to look for in an Internet Service Provider

Speed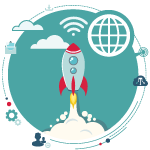 The most obvious difference in consumer expectation for an Internet Service Provider is speed.  Ten years ago, a lot of people still used dial-up, and while it was considered a blessing by many, especially those in rural communities, dial-up soon lost its fans once DSL came out.
Varying performance and speed features will come with the Internet package selected.  This list helps make some sense of common Internet speeds:
5 Mbps or less: Basic Web surfing and email
5–10 Mbps: Web surfing and email, with occasional streaming and online gaming, shared among a few connected devices
10–25 Mbps: Regular high-definition (HD) streaming, online gaming, and downloading files, shared among several connected devices
25–40 Mbps: Heavy HD streaming, online gaming, and downloading, with many connected devices
40+ Mbps: Very Heavy HD streaming, online gaming, and downloading, with a large number of connected devices
Here at AllCore we have a variety of packages available, depending on your location we can provide service from 7 Mbps all the way up to 100 Mbps!

Bandwidth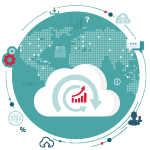 Since people are asking more of their Internet, bandwidth limits have definitely needed to change from what they were a decade ago.  Netflix wasn't available in Canada until 2010, and before that most people weren't getting their TV shows and movies online.  Video streaming was not "a thing" back then so Internet Service Providers did not even offer unlimited home Internet.  Today, it is almost impossible to go without unlimited Internet for most consumers.  Although there are still quite a few Canadians who "pay as they go" and don't have the option to choose an unlimited or extended bandwidth plan.  Most Internet users are anxiously awaiting the day that unlimited usage and extended bandwidth are finally available in their area.
No Bandwidth Throttling – The Internet Service Provider will not throttle or limit your bandwidth, regardless of usage.  At AllCore, our Internet services have been built with our clients in mind, we don't over subscribe our user base which means you will get the service you are paying for. We also don't filter, packet shape or limit your downloads.

Security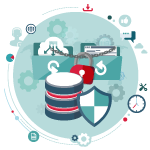 From an online survey conducted in July 2015 that polled 1,106 consumers in the United States, the most interesting result was 63% of consumers surveyed would like it if their current ISP provided one simple solution to increase security across all their connected devices.  The majority of people polled (51%) agreed they would switch to another Internet Service Provider if they offered a higher level of online protection, without additional monthly charges.
Consumers want to be protected and they are looking for greater simplicity when it comes to their online security.  Consumers find their digital world expanding at an astounding pace.  Having more online "devices" from computers, tablets, and smartphones to gaming systems, thermostats, cameras, smart TVs, appliances and more.  Many feel less secure and are looking for uncomplicated security solutions from their Internet Service Provider (ISP).
At AllCore we offer real-time virus, malware and SPAM scanning of all email at no additional charge!

Competitive Price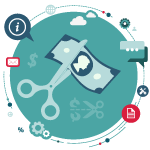 It seems like new providers are popping up everywhere, and while Canadians still have to pay more than our neighbours to the south for Internet, at least there are companies providing competition for the 2 biggest corporations.  We all want to find ways to save money as everything keeps going up and up in price.
Here at AllCore we understand how hard it can be to get good Internet at affordable pricing.  That is why we have built high speed Internet packages at prices and speeds most have never seen before.

Customer Service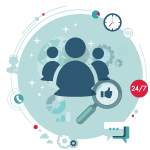 Every Canadian has a bad story to tell about one of the big corporations, and every one of those stories usually ends with a wish for a company with better customer service.
Having a great product is fantastic but with a great customer service team, it can make the entire experience fulfilling.  Dealing with a representative who demonstrates that they care about you as a client, and can go the extra mile to ensure that you are happy with your purchase will often give consumers the incentive to continue using their services.  At AllCore we provide this service and so much more!
There is no guessing about who to choose for your Internet Service Provider – Allcore Communications! With real time virus, malware and SPAM scanning of all email at no extra cost, quality customer service, cloud backup services, unlimited downloads, unfiltered data transmission and a variety of Internet packages at a competitive price, Allcore is the best choice for all your Internet needs.
Contact us today Toll-Free at 1-866-320-0011 and learn why AllCore is the right choice as your Internet Service Provider!