Usability is simply how easy your site is for your visitors to use.  Your website should allow your users to access the information, service or product they want as quickly and as easily as possible.
Importance of Usability
It is very vital to understand the importance of usability on the web.  If a user cannot find your product, the information, or service they are looking for they are going to leave,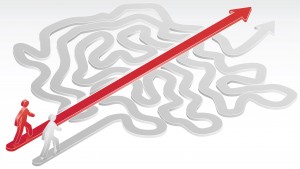 causing you to lose a sale or a returning visitor.  The effects of a poor website design in usability can be enormous:
85% of users abandon a site due to a poor design
83% of users leave because it takes too many clicks to get what they want
62% of users give up looking for an item while shopping online
40% of users never return to a site because the content was hard to use
50% of sales are lost because visitors cannot find what they are looking for
An unhappy user will spread negative experiences more often and faster than a good one
You can now see how the importance of usability in the design of your website is crucial; as it is what helps you achieve your purpose.  Making sure your users can easily access your information.  Good usability can be accomplished through a core aspect of every website; Navigation.  Navigation is paramount in every website design.

 A good navigation system should be:
Simple and logical – you do not want to confuse or overwhelm your users with a complicated navigation system they need to take time to learn how to use
Consistent from page to page – your navigation should be located in the same place from page to page, your user should not have to hunt around for it.
Findability – your users might not organize things in their mind the same way you do, having a site wide search might be helpful to provide your user answers quickly
Clear and concise – not all users will know website terminology, use easy to understand and simple headings
Satisfying to users – enjoys the experience as they achieve their goals and a happy user will return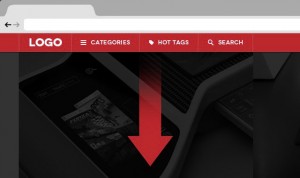 A new design trend in navigation design is "Sticky Navigation".  For those of you who have never heard of this term before, sticky navigation is basically a website menu that is locked into place so that it does not disappear when the user scrolls down the page; in other words, it is accessible from anywhere on the website without having to scroll back up to the top.
How does this apply to usability you might ask?   
Hyrum Denney did usability testing on sticky navigation to find out whether they were easier and quicker to use than traditional navigation menus.  The results of the study found that sticky navigation menus are 22% quicker than standard navigation.  This is due to the fact that the navigation is always at the user's exposure.  They do not need to scroll to the top or bottom of the page to get to the navigation bar saving them time.  The study also indicated that 100% of the participants found sticky navigation easier and quicker to use.  They stated they had a better user experience with the sticky navigation and chose that site over the other one with standard navigation every time.  Below are a few examples of good sticky navigation:
Sticky navigation might not be the right solution for your website but it is something to look into when considering the importance of usability on your website.  If you want to have a sticky menu designed and implemented for your website contact our sales department for information.
Toll Free: 1-866-320-0011 then choose option # 1
Local: 1-905-481-3251 then choose options # 1
E-mail: sales@allcore.ca
Hours: Mon-Fri: 9:00AM – 5:00PM EST