For many a company's logo is more recognizable to them then the company name itself. From the Golden Arches of a well-known fast food chain, the bitten apple representing a popular computer company, to that little blue bird that constantly says "tweet tweet" as millions of users are tweeting daily. If you see these logos first you know what businesses people are referring too. And this means those companies knew about the importance of a good logo and did something right; they struck gold when having their logos designed.
That sounds great for these companies right? But you might be a small business just starting out thinking "What does it matter what my logo is or why do I even need a logo?" Plus you might think you cannot afford to have a good logo designed. But in truth, having a logo is very important to your business branding. Keep reading to learn a few points on the Importance of a good logo and how it might not cost as much as you think.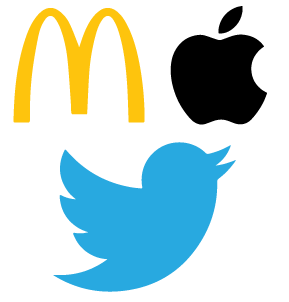 Okay firstly let's start off by explaining what a logo actually is; in case someone reading this is not all too sure.
Logos are intended to be the "face" of a company: graphical displays of a company's unique identity through colors, fonts and images.  They provide essential information about a company that allows customers to identify with the company's core brand and earn their trust.  A perfect logo aims to effectively capture the values and services of the business in a visual context.
The Importance of a good logo
The logo is the most essential and valuable visual component of your brand, as it appears on your stationery, website, business cards and advertising.  It can help boost your company's sales if a user identifies and trusts you over your competition. Therefore, a well-designed logo can contribute to a successful business, while a poorly designed logo can destroy the image of your business and cause confusion to your customers.
Having a professional looking, well designed logo builds trust. Potential customers are more likely to do business with you if you have a well-designed logo. If your logo looks like it was designed in Microsoft Word, people will question how well you are able to deliver your core business products/services if you took no pride in your logo design.
The cost of a good logo
So now you know how important it is to have a good logo.  But you are probably thinking it would be too costly for you to have a great logo designed.  In truth a good logo design can range from $15 which is what Twitter bought their logo for, to $1.8 Million dollars like BBC paid for their new logo.  Therefore saying a good logo will cost you thousands of dollars is really untrue.  It all depends on what you are looking for, it could only cost you a few bucks.  Just let your designer know what budget you have to work with.  Then explain to them your core values so they can create the best logo at an affordable rate.
In conclusion remember a great logo needs to tell your story, represent your core brand, instill trust and be memorable.  If you have any questions about logo design give us a call or email our creative services team.
Toll Free: 1-866-320-0011 then choose option # 4
Local: 1-905-481-3251 then choose options # 4
E-mail: creativeservices@allcore.ca