If you are a pet lover then you need to read this blog post.  Having a dog camera to not only keep an eye on your dog throughout the day but one that also interacts with your furry friend to play with them and give them treats throughout the day is a must have.
I was out for dinner with some friends recently.  Discussing our livelihood over a delicious meal; careers, music, movies, and kids, when the topic of their dogs came up.  These fun and loveable animals are always displayed over my friends' Facebook, Instagram and Twitter accounts.  Me not being a dog owner I was curious about something so I asked my friends how their dogs behave when they are gone to work, or out of the house shopping or here for dinner.  Do they mess up the house? Where do you put them, in a cage? Do they bark incessantly the moment you walk out the door driving the neighbours crazy? One of my friends laughingly replied, "…Well, let's see how they are doing now."
She took out her iPhone and pulled up an app called Furbo.  Within seconds, we were able to view the hallway where the dogs 'hang out' when my friends are away.  They were just relaxing with each other, patiently waiting for their owners to come home to show them some love. My friend leaned over and said, "…watch this…."
She pressed a button on the app and called into the phone; "Hello, Bailey!  Hello, Lulu!"  The dogs perked up, turned to the camera and started wagging their tails.  "Who wants a treat?" said my friend and with another tap, the machine at the house shot out a treat for the happy puppies who were smiling and happy to hear from their owners.
It's no surprise that today's technology offers multipurpose webcams for a large number of uses – from security cameras, 'nanny' cams for the baby's room all the way to Go-Pro and dash cams for mobile video recording…all at the click of your phone or tablet.  So why not a dog camera. With a simple tap, you can see, speak, snap a pic, or treat your dog using a variety of products. Here are a few different dog cameras to consider to keep in touch with your furry little 'children' waiting for you at home:
Petzi Treat Cam
A simple App-controlled, WiFi-connected remote pet treat dispenser and dog camera where you can check-in and interact with your pet from any smartphone or tablet.  With a wide angled camera that has night vision, you can effortlessly see your pets any time of the day. Plus you can also listen to your pets through the high-quality audio.  There is also, a Universal treat launcher (which is good for use with any dry, crunchy treat smaller than 1 inch) that can be set up almost anywhere from the multiple mounting options (mounting kit included).  The app that controls the device also allows you to take photos and share them socially.
Furbo Dog Camera
Furbo is a smart dog camera that lets you see, talk, and toss treats to your dog.  It is designed to make sure your dog can always feel your love and only takes a few minutes to set up. Download the app, connect it to your broadband WiFi signal at the house, and it is ready to go! You can snap photos of your dog and record video of them at home.
This handy gadget has a 720p HD camera, 120° wide-angle lenses, 4x digital zoom, and adjusts to automatic night vision for the later hours. With a built-in speaker and microphone, you can communicate with your dog(s) from anywhere. This app even offers a 2-Way Audio & Barking Alert that sends an alert to your phone when it detects your dog barking. Know when they're in distress and speak through Furbo to calm them down. Your pet(s) will know you're never far away.
Petcube
Petcube Play offers an interactive pet camera that lets you see, talk to, and play with your pet. This redesigned products is very compact with a 3x3x3 dimension, offers 2-way audio, plus sound and motion alerts to notify you of major events at home. The camera streams in 1080p HD video with 138° wide angle view and also has night vision to view in low light and no light conditions. It is iOS and Android compatible (iOS 8+ and Android 4.3+). Unlike other products, you can play with your pet using the built-in laser toy (certified safe for pets and humans) which is ideal for cat and dog owners alike. With a 3x digital zoom to see your pets up close, Petcube also offers Video cloud recording.
To always know where your pets are, several Petcube Play cameras can be set up in multiple rooms and floors. Petcube Play can also be configured with other Petcube products such as Petcube Bites is an all-in-one WiFi pet cam with built-in treat dispenser that lets you treat and train your pet from anywhere.
PetChatz HD
This product takes your pet owning experience to the next level. Similar to other dog camera products, Petchatz is equipped with a low-light camera with high-quality HD video that allows you to record or take photos, a motion detector, sound detector, pet-safe microphone (specially engineered to pick up dog sounds) and a treat-release function.
However, this product goes the extra mile with a full-color LCD display, so your pet(s) can see your face accompanied with a pet-safe scent release, which produces soothing scents that help relieve your dog's anxiety. Going one step further, a separate device called PawCall allows your pet to call you and play games. You can train your four-legged friends to let you know they are ready to talk. Lights lead to "pressing the button", getting a treat and sending an alert that they need you!! The "PetChatz Tone" will grab your pet's attention and let them know "mommy's here!!" (or dad).
Finally, Petchatz HD streams DOGTV.  It provides television for dogs as a 24/7 digital TV channel with dog-friendly programing scientifically developed to provide the right company for dogs when left alone. If this wasn't enough, Camp Petchatz is a digital daycare for your pet offering programming, games and more. A scheduled day of games, videos and video chat.  Now at the end of the day, you can both rest on the couch knowing that both you and your pet were busy all day, and ready to wind down together.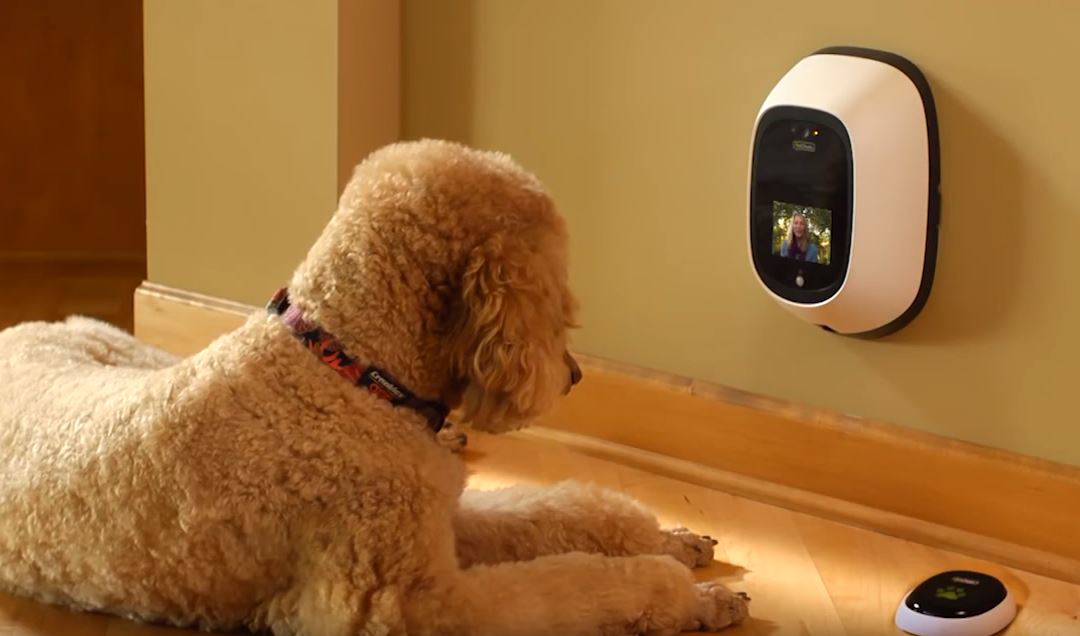 With each of these devices and other devices like them make sure you check the specifications on what you need to make them work. The one thing you need for any of these great dog cameras to work is a strong WiFi connection, and with AllCore's Residential Fiber Internet you will get just that.  Contact us today to learn about our fast reliable Fiber Internet.  We are now pleased to be able offer our customers speeds from 10 Mbps to 50 Mbps! Plus we have 100 Mbps coming this summer!
Stay connected with your pets with a dog camera!