In our last post, we talked about the many ways your online life is hackable.  We said there are over 3.7 billion Internet users in the world today.  But how many people have more than 1 Internet-connected device?  I know I do.  From phones to tablets to computers to now your TVs and even your everyday appliances like refrigerators, lighting and even your security systems. They say by 2020 there will be 20 and 30 billion Internet-connected devices in use.  Therefore most devices in your life will be connected to the Internet and provide a link for hackers to access your life.  That is why now more than ever it is important you know these "8 ways to protect yourself from being hacked".
8 Ways to Protect Yourself from being Hacked

Create strong passwords and change them frequently
It only takes 10 minutes for a hacker to crack a 6 letter lower-case password. If you have a password as simple as "12345" or "password," it would take a hacker just .29 milliseconds to crack it. A strong password is made up of at least 12 characters long and includes; numbers, letters – both upper and lower case, special characters (!#%*), and are not predictable when associated to you.  It is also a good idea to use different passwords for important accounts like banking, online taxation reporting and online purchases.  Therefore if one of your accounts is hacked, the hacker doesn't automatically have access to all your other accounts as well.


Avoid SPAM
This is the most common method used for hackers to plant a virus or other utility into your computer.  It is very important that you do not open emails from unknown sources and never click the links in these emails.  Cyberware is very tricky and can look like a legitimate email from your bank or another reputable company.  Make sure you look the subject over carefully and never open any attachments unless you are expecting something from someone you know.  If you are unsure it is best to contact the individual who sent you the email and confirm it is legitimate before opening it.

Only install trusted applications
When it comes to installing apps on your smart devices it is important to only download those from trusted sources.  Make sure you read the reviews and check out the number of downloads it has before you make your decision.  As hackers will often make fake apps available that look and function like the legitimate ones, but instead they actually install malware onto your device.

Use Secure Payment Websites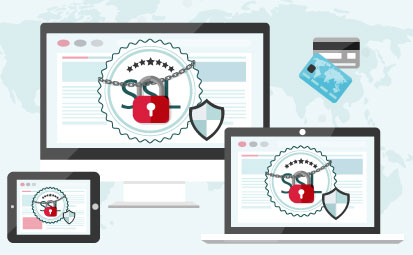 When shopping online, make sure the website is secure. One of the first indicators of this is to view https:// at the beginning of the web address (remember that the "s" stands for secure). You can also view the Privacy and Security policies of the website you are using.  Most websites nowadays have many forms of payment options available.  One that might make you feel safer is using a service like Paypal.  This way you don't have to re-enter your credit card info, you just use your Paypal account, which you already trust so there is no extra risk.

Disable the "Remember your login information" feature on websites
Hackers can spoof your IP address or even use malware to hijack your computer this way.  This is also extremely important when it comes to websites that allow you to store your personal banking or credit card information to make it easier for you to buy their products or to pay your bills in the future. Although this feature is convenient, if your account is hacked, your payment information is more easily available to hackers.
How to disable "Remember your login information" on the different browsers:
In Internet Explorer, select the Tools button, and then select Internet options.
On the Content tab, under AutoComplete, select Settings.
Select the User names and passwords on forms check box, and then select OK
Open the Chrome menu using the button on the far right of the browser toolbar.
Choose the Settings menu option (highlighted in blue).
Click the Show advanced settings… link located at the bottom of the page.
In the "Passwords and forms" section, click the Manage passwords link.
Firefox can securely save passwords you enter in web forms to make it easier to log on to websites. Clear this checkbox to prevent Firefox from remembering your passwords. See Password Manager – Remember, delete, change and import saved passwords in Firefox for details.
Even with this checked, however, you'll still be asked whether to save passwords for a site on your first visit. If you select Never for This Site, that site will be added to an exceptions list. To access that list or to remove sites from it, click the Exceptions button.
Open Safari.
Go to Safari > Preferences.
Click the Autofill icon and uncheck User names and passwords.

Update your software
The most at risk computers are running software and operating systems which have not been updated.  Your computer usually will notify you when this needs to be done, it's important you stay on top of it and update regularly.
It is the same when it comes to your smart devices.  The manufacturers and app developers regularly release software updates that often include security improvements. You usually get notices about updates so ensure you are doing them regularly as well.  It's also a good idea to check your settings to make sure you didn't miss any updates as you don't want to take that risk.

Install Anti-Virus and Malware software.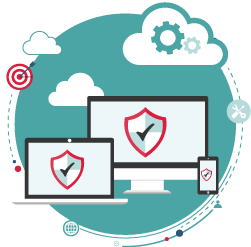 If you don't already have security software installed on your devices then you better get to it.  You need to install an Anti-Virus software and firewall on your devices and you need to keep them up-to-date.  These programs will help you identify the latest cyber threats and allow you to remove malicious malware from your devices. Make sure to do your research before installing any program on your devices as with apps there are many scams that come along with Anti-Virus software. We can help with this, AllCore is a proud provider of Webroot SecureAnywhere which currently protects you from today's most vicious malware and Ransomware attacks out there.

Close your Laptop
This will prevent hackers from watching your activity on the computer.  As an option, you may want to put tape over the camera except for when you are using it. Hackers will use a form of spam email called a RAT (Remote Access Trojan). It tricks users into visiting a specific web page which grants them access to your webcam.
For mobile devices, Hackers will create apps that install malware when downloaded. Your phone then receives hidden SMS messages that make it part of a Botnet program – which can access your phone's camera.
As a result, being infected by Cyberware or being hacked is a threat you need to take seriously. With 390,000 new malware found every day please take the time to read over these 8 ways to protect yourself from being hacked.  It's better to be prepared and protect yourself than having to deal with the aftermath of having your life hacked.