Are you looking for High-Speed Wireless Internet?
Over the last 18 months, many families and businesses have contacted us to inquire about our Wireless Internet access. While we were thrilled with the level of interest we had received, we, unfortunately, were unable to provide service to all those potential customers.  This was due to a variety of reasons.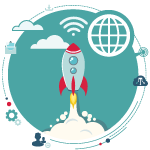 However, a good number of those individuals did advise us that they have a tower available for us to use. Or they would be willing to work with us to install one in order to provide Internet access to their home or business and to the surrounding community.
After considering a number of these requests from potential customers, AllCore is pleased to announce our new Wireless Tower Program.
Our goal for our Wireless Tower Program is to help bring high-speed Wireless Internet to more customers and communities across Ontario.  This program will ensure the families and communities that need reliable high-speed Wireless Internet will be able to enjoy our services sooner.
Is our Wireless Tower Program right for you?
If you own property with an existing wireless tower, barn or silo that our team can use, we would love to hear from you.
If you're a property owner who is willing to put a tower on your property to provide Internet access to your family and community, we would love to hear from you.
Are you interested in investing into a tower for a share of the revenue generated? If so, we would love to hear from you.
How AllCore's Wireless Tower Program works:
AllCore is actively looking for partners who can help us expand our Wireless Internet service to your specific community. We are looking for individuals who have existing wireless antennas on their property that we can use to expand our services.  We are also looking for individuals who would be willing to help us install a new antenna on their property for a share of the revenue the antenna generates.
For more information, please fill in the form or e-mail sales@allcore.ca.  One of our team members will be in touch with you within 1 business day.